This is a group project in collaboration with @loserwinner1.9, @jinx-delly, @gabi_art2, @tsugumiink, @the_jmos, @makyume and @elyu_michaelli. In this project we had to conceptualize a character and it's room, using only a list of characteristics to start off, and pitch the concept to a make believe studio.
We chose the third list and developed the life of a young adult at the start of the COVID-19 pandemic, born in the 90s and living in the beach with their friends and not much money. Although I was there for the full development of both character and room I was responsible for developing the final character design alongside Jinx Delly. At first my sketches were all based on the moodboards we made, but after we developed the character better I suggested sketching ideas together in Aggie.io, below are all such concepts: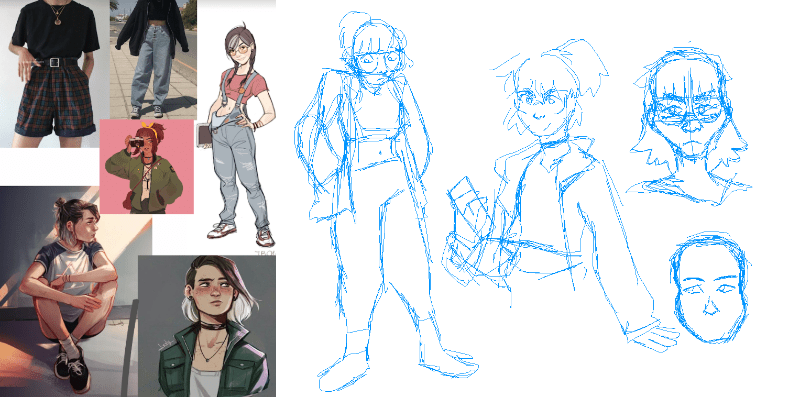 moodboards by Tsugumi, Makyume and Gabi
sketches below are either mine or Jinx's
To get our final design, I put together a "Dress Up" game where we could try out multiple characteristics and concepts for the character, which you can play CLICKING HERE! The final design for the character is below, painting and colors are mine and linework is Jinx's
To see the rest of my work researching and moodboarding and my colleague's work, check out the document below! Note, some information has been altered for their privacy and safety.